Conversion Ready Websites
We build websites designed to constantly meet the needs of your visitors to nurture them through the conversion process
Enjoy the benefits of a modern approach to web design, putting you in the directors seat, with a full suite of marketing and design professionals at your fingertips.
We take the guesswork out of web development, constantly optimising your website based on the data we gather about how visitors interact.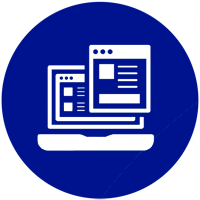 Websites designed to look great on any device, anywhere. Modern websites have to look great and perform their best. That's why we design Responsive First.
Take a sneak peak at our work flow process
Planning is critical to ensuring we work efficiently and effectively towards understanding your challenges, your customers, and your desired outcomes. After working closely with you to discover your needs, we formulate a project planner outlining your entire project from start to finish, including your existing challenges, your desired outcomes, and all deliverables. This is all done before you spend a single cent with us.
Once the plan has been approved, we begin researching the project deliverables, collecting data from all reliable data sources we have access to. This closes the gap between any expected trends and actual existing trends. This step alone often sets us apart from the competition as they would rather make decisions based on emotion rather than taking the time to gather actual data trends.
Next we begin to wireframe your website. Wireframing is a quick method used to build the structure of the website without all the bells and whistles. It allows us to test content and user flow quickly and cheaply. Designs are then produced around the wireframes, with special attention given to how the designs will look on any device. Next, designs are signed off on before finally being implemented in to your website.
When we build a website, we don't just sign off and expect you to take it from there, and neither do we imagine any website owner is happy to be handed a finished website with no instruction on how to turn that in to a ROI driving machine. In the weeks and months following the site build we continue to work closely with you, ensuring your deliverables have been met, monitoring and optimising the site based on data collected directly from the website. This way we continue to optimise the site ongoing, returning higher rates of conversion and better targeted audiences, constantly working to improve your bottom line.
We are convinced we offer something special. A service so unique in it's delivery that you can't help but be completely satisfied by the work we produce. As such, we offer a full 100% money back guarantee on any work on your website that is deemed to not completely meet the brief of the project, OR, we work for free until it does.
Book a free consultation to start your next web project...
Pick up the phone and get in touch. One of our friendly support team will be happy to guide you.